In 2019 Goldcon Construction built an Award-Winning home, 'Glenwood Modern Farmhouse,' a two-level, 4600 square foot home in North Vancouver. The house was situated on a considerable 60′ wide x 188′ long, flat lot. We wanted to design and build a modern farmhouse-style home that would suit the family-friendly neighbourhood and bring a bright and cozy warm feeling to its surroundings.
What is a Modern Farmhouse Style Home?
Modern Farmhouse combines the sleek, clean lines of contemporary design with the cozy Farmhouse aesthetic to create a uniquely fresh style of design and architecture. The peaked roofs, large windows, white exterior, stone/shingle accents are all elements of the Modern Farmhouse Style. In addition, the mixture of the flat roof is a modern element in this style, and you can see these details on our Modern Farmhouse homes.
Goldcon's First Modern Farmhouse Project in North Vancouver
Glenwood Modern Farmhouse is one of the first Modern Farmhouse style homes built in Vancouver, Canada. This custom spec home was listed for sale in the summer of 2019 for $3.9M and was quickly sold that same summer for a record-breaking price. The Farmhouse was also rented to Urban Barn for a photoshoot for their Fall catalogue!
The main floor of this beautifully designed home is perfectly equipped for indoor and outdoor entertaining, including a covered patio space with a built-in barbecue, patio heater, and stunning fire feature in a vast private backyard oasis.
Also, on the main floor is a gourmet kitchen featuring Miele appliances, a wine room, a full-sized pantry, and a spice kitchen, as well as a designated laundry room/mudroom, a family room, a dining area, a powder room, a media room, an office, and a guest bedroom with a separate entrance and its own en-suite.
The upper floor consists of 5 bedrooms! A large Master bedroom with a walk-in closet and en-suite with an 8′ shower, a secondary laundry room, a 'Jack & Jill Bathroom' for Bedrooms 1 & 2, and two additional bedrooms with separate en-suites walk-in closets.
This Farmhouse style home has quickly gained the popularity it deserves with almost 1,000,000 views on YouTube and thousands of shares on social media platforms! We promptly received many emails from homeowners wanting to purchase the house plans for our modern farmhouse project.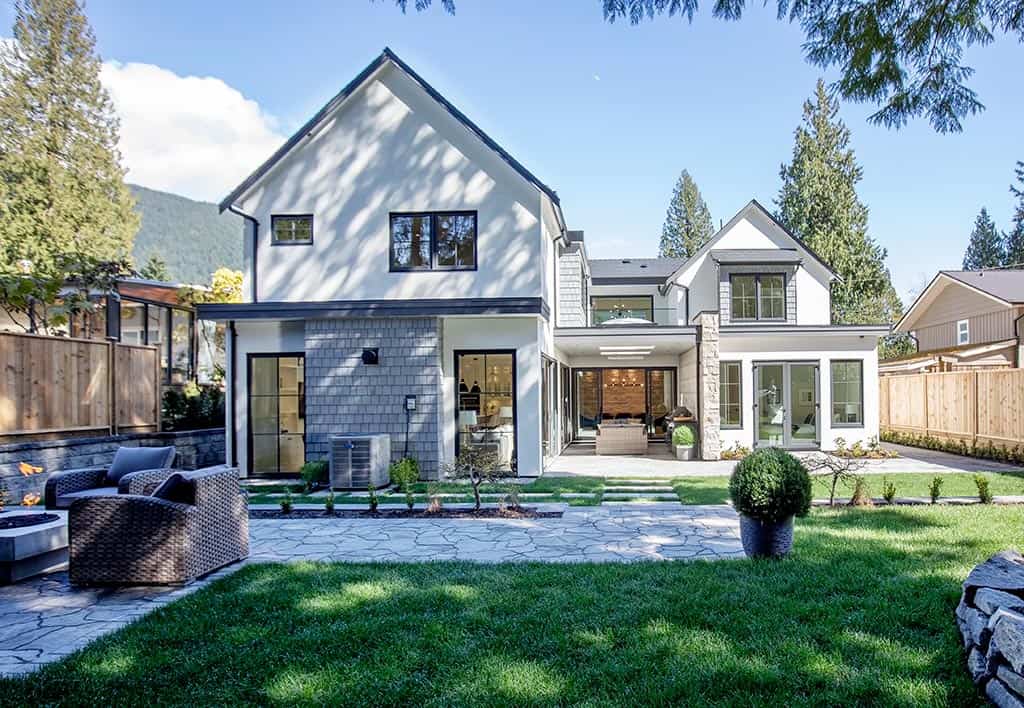 The back yard and exterior of Glenwood Modern Farmhouse. Stunning architecture with stucco exterior, cedar shingle accents and natural stone accents. Large windows and sliding doors connecting the interior with the exterior. The Guest bedroom on the main floor shown in the photo at the bottom Right has a separate entrance, a bonus feature. 
Modern Farmhouse Style Kitchen and Family Room with large Fireplace and shiplap accents. Large windows allow for bright natural light to flow into the space. 
Modern Farmhouse Style Kitchen with black cabinetry hardware, black pendant lights, large Kitchen Island, Miele & Wolf appliances, herringbone pattern kitchen backsplash tile, glass cabinetry for the upper cabinets and a door that leads to the Spice Kitchen/Pantry a must-have!
Large mudroom with hexagon floor tiles, a bench for the coats, bags, and drawers below for shoes! The exterior door leads to the garage and front driveway, the entrance to the side of the bench not shown in this photo leads to the hallway. Another door leads to the Spice Kitchen. 
The Master bedroom has vaulted ceilings to allow for more space and make the room taller in height. 
Large shower in the En-suite with vaulted ceilings. 
Our Latest Modern Farmhouse Project In North Vancouver
Marigold Modern Farmhouse, our latest custom spec house project built-in 2021 in the Canyon Heights area in North Vancouver, was pre-sold in 2020 for another record-breaking price for its area. This home was sold before we started construction, and we worked with the new homeowners to customize some of the finishes to create their dream home!
The thoughtfully designed house plans for Marigold Modern Farmhouse are one of the main reasons we could sell our project even before we had started construction.
A three-level 5500 square foot home on a 10,000 square foot flat lot in North Vancouver. Beautifully designed modern farmhouse-style exterior and interior. Large black frame windows throughout the house. Skylights are positioned over an open to below to allow for lots of natural light on the main and upper floor. A large natural stone feature wall wraps around the dining room cabinetry, natural stone accents on the exterior posts, a large covered area for entertaining with a dining area and lounge area. Beautifully landscaped property with a putting green and water feature.
An open floor concept main floor with formal living, informal living, dining area, large kitchen with beautifully designed cabinetry and large waterfall kitchen island, Spice Kitchen, powder room, mudroom and a bright home office.
The upper floor consists of 4 large bedrooms: Bedrooms 1 & 2 with a hallway bathroom, Bedroom 3 with an en-suite and walk-in closet, and the master bedroom with a walk-in closet, balcony and spacious en-suite!
The lower level of this beautifully designed modern Farmhouse is every entertainer's dream home! An open floor concept consisting of a guest bedroom and bathroom with steam shower, home gym, home theatre, wine display, media area, home bar and Island, and a games area.
Modern Farmhouse Style exterior with a beautifully designed indoor/outdoor area and landscaping. Skylights above the lounge area to allow for natural light. Master bedroom balcony, perfect for sunny days! There is access to the lower floor from the stairs that lead to the side entrance, making it easy to go downstairs to the entertainment room from the backyard BBQ. 
Large Farmhouse Style windows with a water feature and indoor/outdoor living.
Beautifully designed railings, oak and metal railings, three skylights to allow for natural light all the way down the open to below area on the main floor. 
Herringbone pattern hardwood flooring in the entrance and the stunning natural stone feature wall are the centrepiece of this home. Behind this feature, wall is the dining area and formal living space.
Large kitchen with a two-tone cabinetry theme, large kitchen Island with an Engineered Quartz waterfall, panelled fridge/freezer and beautiful gold accents on the kitchen pendants. The door next to the coffee maker and speed oven leads to the Spice Kitchen, the barn door to the left of this photo leads to the mudroom. 
An overall photo of this stunning kitchen and informal living space! White oak trim around the kitchen hood fan and white oak shelves in the built-in tv cabinetry are some fine details to look for!
This photo captures the Modern in Modern Farmhouse Style!
Upper floor bedroom with vaulted ceilings and Farmhouse Style black windows. 
Herringbone floor tile, farmhouse-style accessories and hardware.
Large Master En-suite with large format tiles on the walls and herringbone tiles on the floor. Large window centred on the freestanding bathtub overlooking the backyard.
The Master Bedroom with Shiplap accents on the wall and a large sliding door opening to the balcony facing the backyard. 
Shiplap accents on the TV wall and dark cabinetry complement this beautiful space on the lower floor.
This is the view facing the Gym, Bar, and the exterior entrance to the lower floor. Plenty of space by the Island for a games table or two. 
Large flex space area that is utilized as a Home Theater.
Beautifully designed wine display with a herringbone pattern hardwood as the backdrop and floating cabinets with Engineered Quartz countertops. The stairs lead to the main floor, the Guest bedroom is next to the stairs and with a Guest bathroom and steam shower.
Goldcon's Modern Farmhouse House Plans Available For Purchase
You can now purchase our Modern Farmhouse Stock Plans to build your dream home anywhere around the world. Currently, there are two house plans available for purchase and more house plans coming soon. House plans include exterior and interior wall framing and windows/door dimensions. Room sizes are indicated. Floor Plans will also reveal cross-section details (provided on the sections page) and show any unique framing details applicable to the design. These are architectural drawings for construction only (interior design drawings and specifications not included; however, they can be available if requested).
The benefit to purchasing our Modern Farmhouse Style House Plans:
Already built homes with photos & videos

Popular timeless designs

Clear and well designed architectural drawings

Award-winning Modern Farmhouse Style homes

Affordable prices
Take a look at Glenwood Modern Farmhouse and Marigold Modern Farmhouse and buy your dream home house plans today!